You may be facing a lawsuit for delivering low-quality products. Or you may be the one taking legal action against someone who broke a contract. Both scenarios could be the case for commercial litigation. But what exactly is commercial litigation?
Commercial litigation is a dispute arising in a commercial relationship where one party sues another for unlawful action. Without the necessary information, engaging in a commercial lawsuit can be extremely hard to navigate.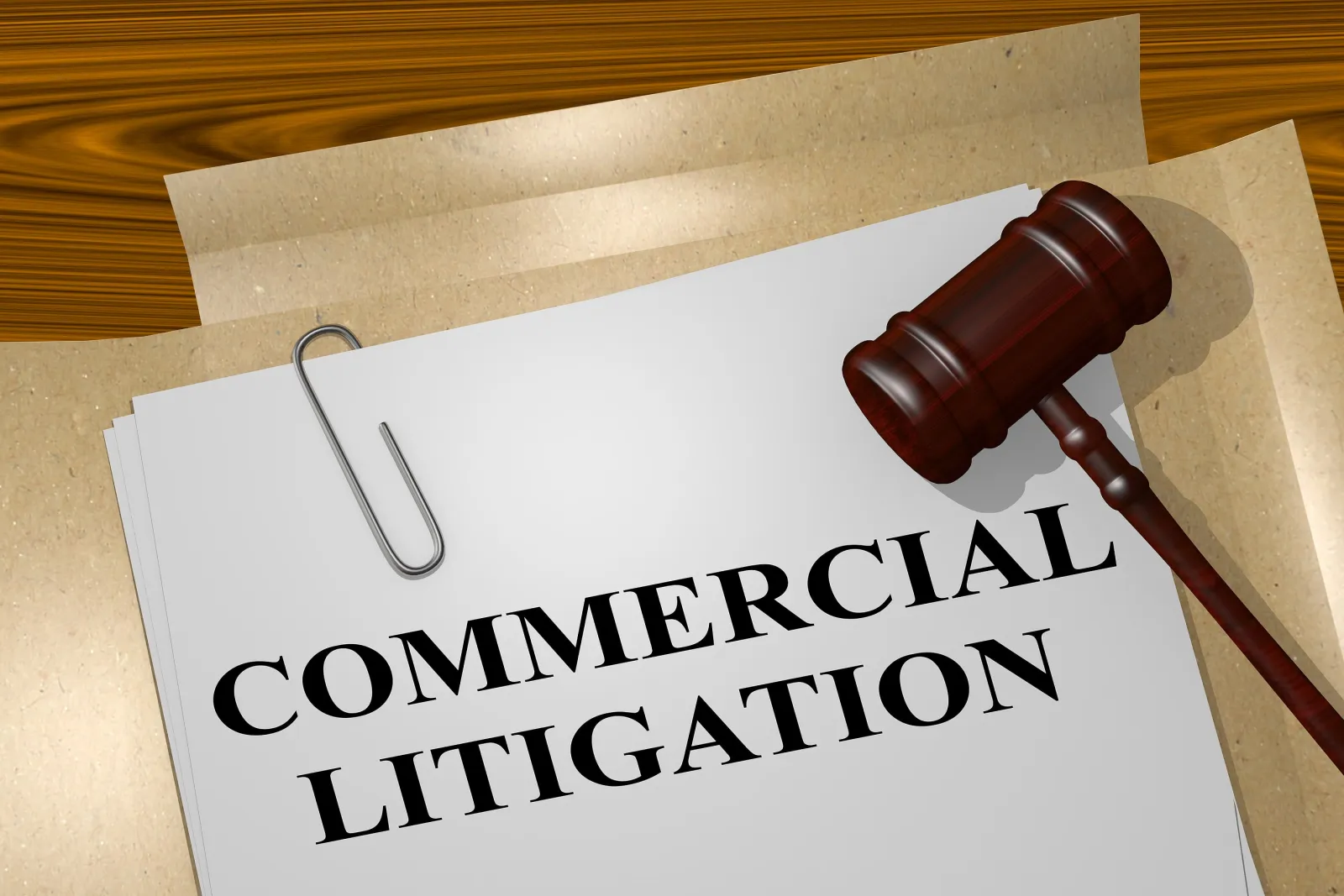 Civil Litigation vs. Commercial Litigation?
First, let's talk about what civil litigation is. Most people are more familiar with these cases.
Simply put, a civil litigation case is a case between individuals in which no one is an overt criminal.
Generally, in a civil litigation case, one party takes another party to court to execute or protect a lawful right and receive compensation.
So, what makes commercial litigations different?
The main difference in commercial litigations is that at least one party in the commercial dispute is a business entity, such as a collaboration or a company.
Commercial and other forms of civil lawsuits are often handled similarly. In both cases, there is an investigation and lawyers on both sides to defend their client before a judge and jury.
Different Types of Commercial Litigation
Commercial litigation disputes come in a variety of forms, as listed here. This list is not exhaustive, but some of the many types of commercial litigation are:
· Antitrust Cases
· Aviation Disputes
· Bad Faith Cases
· Breach of Contract Actions
· Breach of Duty Cases
· Breach of Fiduciary Duty Cases
· Business Torts
· Class Action Lawsuits
· Construction Cases
· Debtor or Creditor Actions
· Derivative Actions
· Employment Cases
· Fraud Actions
· Insurance Coverage Cases
· Intellectual Property Infringement Cases
· Patent Infringement Cases
· Labor Cases
· LLC Membership Disputes
· Misrepresentation Actions
· Product Liability Claims
· Securities Litigation
· Shareholder Issues
· Tax Disputes
· Tortious Interference
· Trade Secret Lawsuits
· Unfair Competition Case
Commercial Litigators
Commercial litigation lawyers have specialized education, training, and expertise in business-related cases. Whether defending a person or a business, the function of such a lawyer is always to represent their client.
The Current State of Commercial Litigation
The legal terrain is constantly changing because of governments, laws, the economy, technology, etc. Commercial litigation has been evolving alongside technology and the market for decades.
High-tech firms that are expanding rapidly play a significant part in the development of commercial litigations. These companies are frequently involved in high-risk, million-dollar lawsuits with copyrighted materials, business secrets, or million-dollar contracts at stake. And as long as these businesses are running and society is evolving, there will surely be new causes of action for commercial lawsuits.
Responding To a Commercial Litigation
No one enjoys bringing people to court, yet it is sometimes unavoidable. When confronted with a commercial disagreement, especially in its early stages, the best way to deal with it is to seek the assistance of a professional commercial litigation lawyer who can assist in resolving the matter before it goes out of control.
A considerable number of civil and commercial cases are settled outside of court and having the appropriate commercial litigation attorney on your side is critical to achieving a simple, smooth settlement - without a trial.
Do you need a breach of contract lawyer or need help navigating a commercial litigation suit? If so, contact our professional attorneys today.