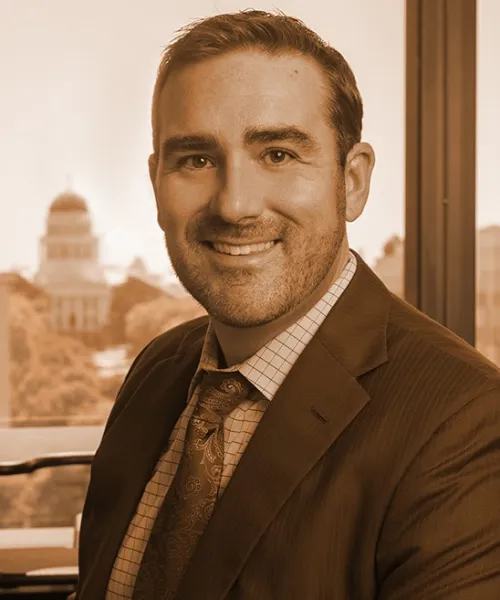 Shawn M. Krogh
Attorney
Shawn is a partner at Krogh & Decker, LLP. Shawn formed the law firm with Derek C. Decker in November 2014, so that he could focus on serving the needs of small and mid-sized businesses.
While a businessman at heart, Shawn has a background in politics. Shawn uses the skills that he learned in the Governor's Office background to navigate big personalities and give everyone the feeling that they won something.
He enjoys using the law to aid his clients. From crafting the perfect legal argument to drafting the most exquisite contract to developing sound legal strategies, Shawn's attention to detail makes him an extremely effective legal counselor. At the heart of all of Shawn's advice is the cost/benefit analysis.
It is his balance of legal and business knowledge that prevents emotion from overruling sound judgment.
Shawn's practice includes civil litigation and business transactions. Today, Shawn spends most of his time preventing lawsuits before they arise, advising clients on day-to-day business best practices, and strategizing successful resolutions to contentious cases. Throughout his career, Shawn has represented businesses, business owners, and entrepreneurs. Many of his clients include construction companies, engineers, manufacturers, technology businesses, brewers and wineries, and real estate investment firms. Shawn connects with his clients by taking the time to understand their needs, goals and objectives.
Email: shawnkrogh@kroghdecker.com
Phone: (916) 498-9000
More About Shawn
Shawn's broad experience in civil litigation practice includes partner and shareholder disputes, trade secret litigation, construction disputes, estate and trust matters, disputes among family members, real estate disputes, and employment lawsuits. Ultimately, Shawn's goal is to obtain the evidence needed to put the client in the best position to prevail in the trial. He has found this puts the client in the best position to settle favorably, even if the case does not go to trial. In his business transactions practice, he guides clients in the creation, purchasing, and/or merging of businesses, intellectual property matters such as trade secret and trade secret protection, registering trademarks, estate planning, and advising clients on day-to-day legal issues that many business owners face. Shawn also works with business owners in connection with professional licensing issues and assists them in obtaining various governmental statuses such as Disabled Veteran Business Enterprise, Small Business Enterprise, and Disadvantaged Business Enterprise.

Community Involvement
Shawn currently serves on the board of directors for Runnin' for Rhett, a local not-for-profit organization that strives to fight childhood obesity and provide training to special education teachers. He is also a member of the Yolo and Sacramento County Bar Associations, local organizations charged with creating a better legal community in Yolo and Sacramento Counties. Shawn is also a member of Vistage, which is the largest CEO organization in the world. At Vistage, Shawn works with other CEOs in the Sacramento area in a workshop format assisting them develop their companies into enterprise businesses.
Education
Shawn received his Juris Doctor with distinction from the University of the Pacific, McGeorge School of Law in 2003. While there, Shawn also completed the tax concentration, served as an editor of the Transnational Lawyer Law Review, and was a member of the Traynor Honor Society. In 1999, he earned a Bachelor of Arts in political science from Sonoma State University.

Representative Litigation
Represented the defendants in a contentious partnership dispute where the main dispute was the existence of a partnership. After a two-week jury trial, the jury found in favor of the defendants on all counts.
Represented a plaintiff in a trade secret matter and obtained a restraining order against the defendant at the beginning of the litigation. The case resolved shortly thereafter with a cash payment to the client and implementation of a permanent injunction.
Represented a contractor claiming damages in a mechanics' lien claim dispute. After protracted litigation, the matter settled prior to trial with client receiving the entire sum claimed.
Represented a contractor claiming damages in a mechanics' lien claim dispute. After protracted litigation, the matter settled prior to trial with client receiving the entire sum claimed.Represented a defendant employer in a lawsuit filed by an angry plaintiff who was terminated from her position. Obtained a dismissal of the matter prior to the matter proceeding to trial through a motion for summary judgment.
Represented a defendant in a malicious prosecution action. Filed an anti-SLAPP motion at the outset of the litigation. In the face of the anti-SLAPP motion the plaintiff dismissed the matter. The court nevertheless granted the motion and awarded attorneys' fees.
Represented a plaintiff in a real estate development dispute that concerned the failure to release funds out of escrow. The court determined that plaintiff was the prevailing party.
Represented defendants and cross-claimants in a partition action. The matter proceeded to trial where the property was sold pursuant to the defendants' consent partition sale and the court awarded damages to defendants/cross-complainants against the plaintiff/cross-defendant.
Represented a shareholder in the dissolution of a heating and air conditioning company. Obtained a preliminary injunction against another shareholder to prevent misappropriating work. The matter ultimately went to trial where the court awarded both general damages and punitive damages.
Represented a defendant in a breach of contract dispute concerning an alleged unpaid loan. After a bench trial, the court found in favor of the defendant.
Represented a joint venturer in the dissolution of an "8A" joint venture that was administered through the United States Small Business Administration. The matter proceeded to arbitration and remarkably resulted in a decision that was beneficial to all parties involved.
Represented a senior partner in a limited liability company dissolution and breach of fiduciary duty action. Prevailed at arbitration and recovered attorneys' fees.