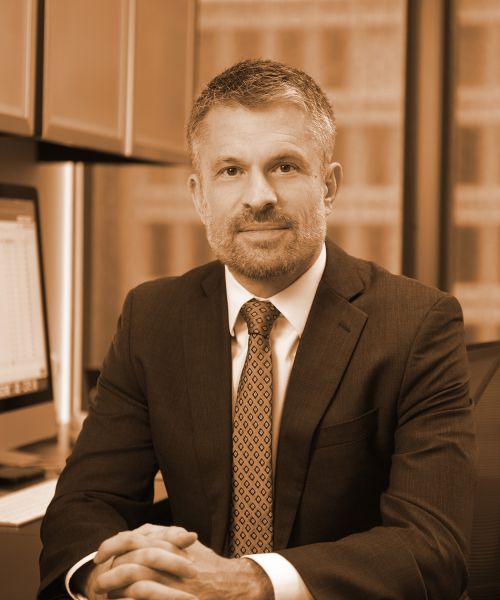 Derek C. Decker
Attorney
Derek is a partner at Krogh & Decker, LLP. Derek formed the law firm with Shawn M. Krogh so they could build a business that would truly take care of the client, and provide top notch legal service, while at the same time create a workplace where employees look forward to coming to work every day. He believes that if every day you work hard, smart, and take care of the people that pay you and the people who work for you and, not only will you succeed but so will your clients and employees.
Derek has a keen understanding of human nature and uses that understanding to step into his client's shoes and know their position and story inside out, accurately assess the facts and nuances of a case that a judge or jury will be more attuned to, and to outmaneuver opposing counsel and adverse parties.
Derek practices civil litigation, handles transactional work, and provides day to day legal advice to all types of businesses. His focus includes employment matters, contract disputes, real estate matters, construction law, administrative law, trade secret violations, fraud, defamation and shareholder disputes. He has represented parties ranging from individuals to multinational corporations and throughout his career has litigated and tried highly contentious and complicated matters. He has substantial experience representing insurance companies and other institutional clients, and understands the advantages gained by knowing your case early and in detail, and positioning a case for success at trial before it is even filed.
Email: derekdecker@kroghdecker.com
Phone: (916) 498-9000
More About Derek
Derek has experience with all phases of litigation at both the federal and state level. He has first-chair trial, arbitration, and mediation experience. In addition to court trials, he has represented clients before the California Department of Fair Employment and Housing, United States Equal Employment Opportunity Commission, California Office of Administrative Hearings, California Unemployment Insurance Appeals Board, and the California Contractors State License Board.
Derek also advises clients regularly on day-to-day issues involved in running a successful business in California. He has transactional experience involving the formation of corporations and limited liability companies, employment agreements and severance packages, asset and stock purchase agreements, and licensing and sales agreements.
Community Involvement
Derek is a member of the Sacramento County Bar Association and a past member of the American Bar Association. He acted as pro-bono counsel for the Sacramento Midtown Business Association, an organization that protects and promotes business in midtown Sacramento. He is a current member of the Sacramento Downtown Partnership, an organization that aims to continually grow the downtown core, and the Sacramento Area Human Resources Association.
Education
Derek received his law degree with distinction from the University of the Pacific, McGeorge School of Law in 2004, where he was inducted into the Roger J. Traynor Honor Society. He earned a Bachelor of Arts degree in psychology from the University of Nevada, Las Vegas.
Representative Matters
Represented plaintiffs in a shareholder dispute arbitration involving breach of fiduciary duty and theft of corporate property. Recovered clients' converted software, files and hard drive, as well as damages against opposing party for improperly shutting down a corporate bank account.
Represented a plaintiff in an unlawful detainer and breach of contract trial involving commercial property. The client prevailed and was granted judgment and recovered attorney's fees and costs.
Represented a plaintiff subcontractor in a trial involving failure of a flooring product at a Walmart. Client was deemed the prevailing party and recovered damages.
Represented a respondent, the predecessor to the second largest gaming resource supplier in the United States, in an almost six-week administrative trial involving 28 witnesses and voluminous documents.
Represented a plaintiff medical tourism company in lengthy multiple day hearing seeking contempt against a defendant webmaster for stealing the plaintiff's websites, databases and proprietary information.
Represented a defendant/cross-complainant in a breach of contract action initiated by a Fortune 500 company. Prevailed on every motion filed in the case and the client recovered a highly favorable monetary settlement, while the plaintiff obtained nothing.
Represented a plaintiff employee in action against a largeCalifornia state agency. Obtained a highly favorable monetary settlement for the client after extensive depositions which uncovered further evidence supporting the client's case.
Represented a defendant Internet travel company in a breach of contract, wage and hour and age discrimination lawsuit filed by three plaintiffs. Obtained summary adjudication on a claim involving complex alter-ego and successor liability.
Represented a defendant furniture company in an employment discrimination lawsuit. Settled the case for minimal value after confronting the plaintiff with damaging evidence during the deposition.
Represented large regional construction company in lawsuit against developer involving fraud, breach of warranty, and breach of contract. Case settled on very favorable terms for the client after seeking to obtain potentially damaging evidence from third party state agencies.
Represented businesses and individuals in multiple employment lawsuits where complete dismissal of the case was achieved after cross-examining the plaintiff in deposition.
Represented information technology value added reseller in trade secrets and breach of non-disclosure agreement lawsuit against former employees. Obtained high dollar value settlement in favor of client after prevailing on motion to inspect the opposing party's laptop and taking damaging depositions of the employees.